Thu, 1 June, 8:00PM, at East Boston Stadium
Stoneham Sabers 10, East Boston Knights 0



Sam Cummings tosses 5 scoreless innings to help the Sabers blank the Knights 10-0

Cummings scattered 4 hits, striking out 3 to earn his 2nd win of the season. Cummings 3 strikeouts, would be good enough for the 200th of his career!

The Sabers would get on the board first and not look back. After Nick Powers smashed a double, Angelo Colucci would drive him in with an RBI single.

The Sabers would add 5 more in the 3rd. Tommy Lenane would hit a 2RBI single and Colucci would follow with a RBI single of his own. Dionys Quezada and Josh Creamer would also have RBIS in the inning.

Sean Moynihan would hit in a run in the 6th. Lenane would hit yet another 2 RBI single in the 7th for insurance.

Danny Lumb and Corey McNamara closed out the game for the Sabers.

Polanco blasted a double for the Knights.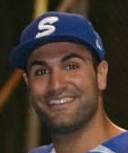 Cummings recorded his 200th career YBL strikeout. Colucci had 4 hits and Lenane had 4 RBI for Stoneham.