Sun, 10 June, 5:00PM, at Recreation Park
Stoneham Sabers 3, South Boston Saints 1



Solid pitching and Colucci's 2RBI triple helps Sabers edge the Saints 3-1

(W 1-0) Lumb (6) Powers S (1) to Hodor

(L 1-1) Aizenstadt (5) Matvichuk to Goldstein

The Saints got on the board first in the 4th. A Downing triple, led to a Wessman sac fly.

The Sabers would battle back in the bottom half. After a Powers' walk and a Chapman single, Colucci would hit a 2RBI triple and he later scored on a wild pitch.

Lumb earned his first win of the season tossing 5 strong innings, striking out 4. Powers would earn the 6 out save, striking out 6 of the 7 batters he faced.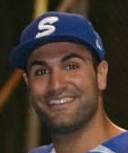 Colucci hit a game winning 2 RBI triple